ADVOCATE FOR TB VACCINE R&D
The WGNV is an informal network of stakeholders engaged in all aspects of TB vaccine R&D - including TB vaccine advocacy - and from all constituencies, including researchers, academicians, product developers, clinicians, advocates, funders, policymakers, and affected communities. The WGNV helps to facilitate the development of new, more effective TB vaccines by promoting consensus, scientific exchange, and advocacy in support of TB vaccine R&D.
Join the WGNV
Members will be kept informed of new developments in TB vaccine R&D and opportunities to engage in efforts to advance TB vaccine R&D, including current TB vaccine advocacy activities.
Get involved with the TB Vaccine Advocacy Roadmap (TB Vax ARM)

The TB Vax ARM represents a global coalition of TB stakeholders, including TB survivors, civil society organizations, and non-profits, invested in TB vaccine advocacy and research, and seeks to provide coordinated advocacy efforts that are complementary to ongoing TB vaccine R&D and policy efforts. The TB Vax ARM holds monthly advocacy meetings with partners from across the world. WGNV coordinates with the TB Vax ARM on global advocacy activities.
If you would like to learn more about the TB Vax ARM's activities or join the monthly meetings, email Shaun Palmer at SPalmer@iavi.org.
Check out our resources
Learn more about TB vaccine R&D, the state of the field, and discover key resources in the Advocacy & Community section of our resource page, including key content, such as:
Check out our digital advocacy resources
Discover digital advocacy resources that you can use in your own online advocacy, including:
TB Vaccine Advocacy Fellowship 2023
The TB Vax ARM and the WGNV are pleased to announce a new advocacy fellowship program. The program will convene six fellows representing TB affected communities, advocates, and early career researchers from high TB burden countries for a skill building and co-learning program. Through guided and self-guided working sessions, fellows will work together to develop an actionable campaign that can be implemented for World TB Day and hone their skills to develop and contribute to future advocacy campaigns
The deadline for applications is 31 December 2022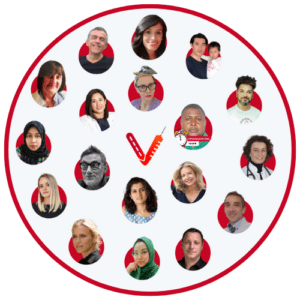 Previous Advocacy Activities
Open Letter campaigns
Since the TB Vax ARM was convened in May 2021, the coalition has launched two open letter campaigns, calling world leaders to fulfil fundings commitments to make new TB vaccines a reality. The first addressed the G20 ministers of health and finance in October 2021 (also featured in an article in the Guardian Global Development) with the second targeting EU leadership in February 2022. Both campaigns have received support from the global TB community, including TB survivors from all G20 states and over 90 organizations, and have reached over 1 million screens on social media.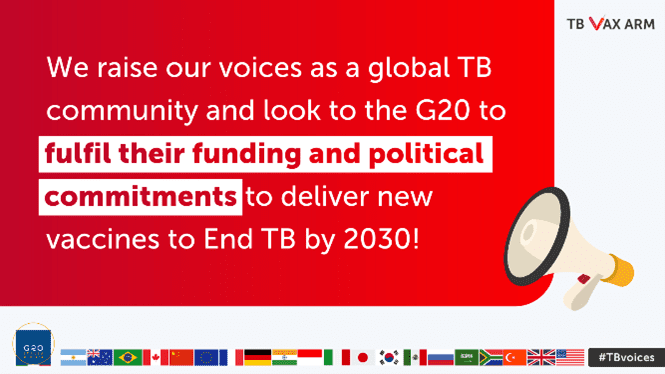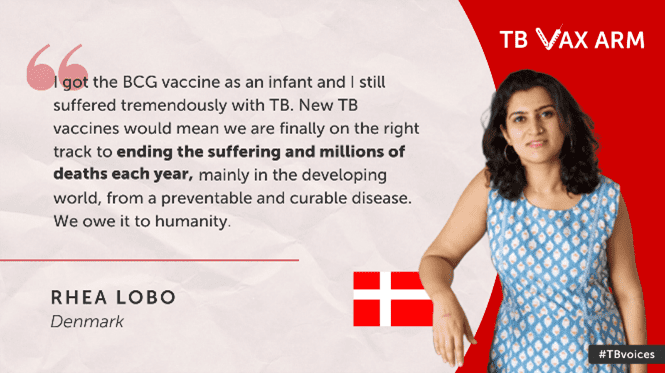 Social Media Advocacy Fellowship
At the beginning of February 2022, IAVI launched a social media fellowship as part of the TB Vax ARM efforts. Cheleka Mpande, Gloriah Moses, and Krystyna Rivera, three TB vaccine R&D advocates representing TB affected communities and early career researchers, came together for an intensive two-week social media skill building and campaign development program.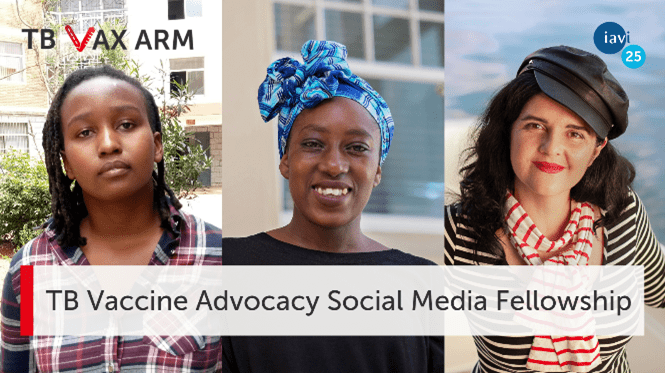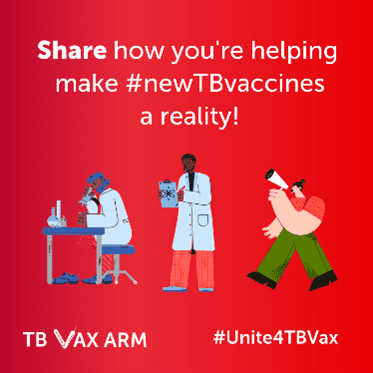 The fellows developed and ran a social media-based TB vaccine R&D advocacy campaign in the lead up to the 6th Global Forum on TB Vaccines, where they called upon members of the global TB community to #Unite4TBVax by sharing how they are helping to make new TB vaccines a reality on the campaign Kudoboard. You can share what your role on the #Unite4TBVax message board
Join the WGNV or subscribe to the WGNV email list to learn more about upcoming advocacy initiatives and opportunities.